April 11, 2011
401-863-2476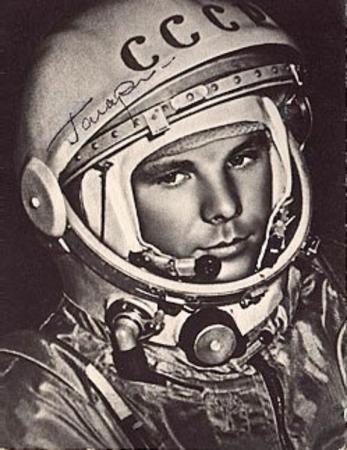 On April 12, 1961, Soviet cosmonaut Yuri Gagarin completed the first orbital flight of Earth. Brown's Department of Geological Sciences will mark the anniversary with a public forum at 4 p.m. in MacMillan Hall, Room 117, including James Head, professor of Geological Sciences; Sergei Khrushchev, son of the Soviet premier and a senior fellow at the Watson Institute; Apollo 8 astronaut Bill Anders; Sasha Basilevsky, a visiting professor at Brown from Russia's V.I. Vernadsky Institute; and author Ronald Grelsamer.
PROVIDENCE, R.I. [Brown University] — Fifty years ago — April 12, 1961 — the Soviet cosmonaut Yuri Gagarin became the first human to circle the Earth, ushering in a Cold War race to space and a stunning series of peaceful explorations of our solar system that continues today.
Gagarin's flight, commemorated worldwide, also will have a proper reception at Brown University. A public forum organized by James Head III, professor of geological sciences, will feature reflections and future perspectives from Head and others, including the son of the Soviet premier during Gagarin's voyage, a NASA Apollo astronaut, a Russian planetary scientist, and an author on the 1960s culture in America.
The forum titled, "Commemorating the 50th Anniversary of the First Human in Space: The Flight of Yuri Gagarin, April 12, 1961," will be held at 4 p.m. in MacMillan Hall, Room 117. The public is invited to attend.
Gagarin's 90-minute orbit around the Earth on April 12, 1961, involved great risk and demanded great courage. In his book, Sergei Khrushchev, a senior fellow at the Watson Institute for International Studies at Brown and the son of Soviet Premier Nikita Khrushchev, writes that the mission design team feverishly worked to prepare a spacecraft capable of catapulting Gagarin into space, correctly sensing that the Americans were relentlessly working to beat the Russians into space. After much back and forth, the Soviet design team settled on a capsule that the cosmonaut would not be able to control except in an emergency.
While Gagarin circled the planet, Nikita Khrushchev "kept looking at the telephone," his son, then a 25-year-old rocket scientist, writes. "When it finally rang, Father rushed to it and, hearing (space design engineer Sergei) Korolyov's voice, shouted: 'Just tell me, is he alive?'"
Mission accomplished, Gagarin was treated to a hero's welcome unlike anything since the end of World War II. Newly promoted to major at Khrushchev's suggestion, Gagarin and his wife were cheered by adoring crowds as their open-air limousine wound its way from the airport to a mass celebration on Moscow's Red Square.
Sergei Khrushchev compares Gagarin's circumnavigation to the Wright brothers' first flight. "Many people thought it would be physically impossible," he said.
Head was a student at Washington and Lee University when Gagarin circled the Earth. "What it meant to me was that (Gagarin's space flight) and Sputnik were things that made me look up and led me to think about geology and space – and make it a career, basically," he said.
Head, who earned his Ph.D. at Brown, went on to join NASA's fledging Apollo program. He returned to Brown as a planetary scientist and professor and has been a leader in planetary geology for decades.
The other speakers at the forum include:
Apollo 8 astronaut William "Bill" Anders, who was part of the first crew to leave Earth orbit and to orbit the Moon in December 1968, is expected to speak about the impact of Gagarin's flight on the development of America's space program.
Alexander "Sasha" Basilevsky, director of the Comparative Planetology Laboratory of the V.I. Vernadsky Institute of the Russian Academy of Sciences and a visiting professor at Brown, is expected to describe his personal recollections of the flight and his role analyzing and mapping potential lunar landing sites for Soviet cosmonauts in the 1960s.
Ronald Grelsamer, Class of 1975, will offer a cultural look at the times based loosely on his book, Into the Sky with Diamonds: The Beatles and the Race to the Moon in the Psychedelic '60s.
Editors: Brown University has a fiber link television studio available for domestic and international live and taped interviews, and maintains an ISDN line for radio interviews. For more information, call (401) 863-2476.