August 3, 2009
401-863-2476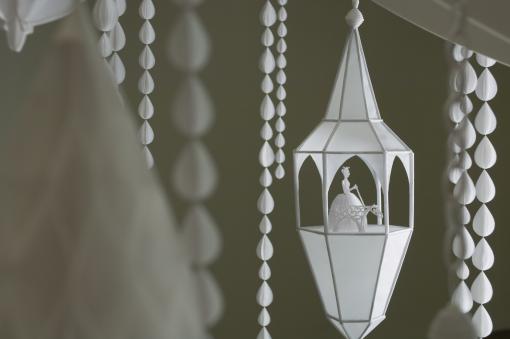 The David Winton Bell Gallery at Brown University presents Kirsten Hassenfeld: Recent Sculpture, an exhibition of large-scale ornate paper sculptures, from Saturday, Aug. 29, through Sunday, Nov. 1, 2009.
PROVIDENCE, R.I. [Brown University] — The David Winton Bell Gallery at Brown University presents Kirsten Hassenfeld: Recent Sculpture, opening Saturday, Aug. 29, and continuing through Sunday, Nov. 1, 2009. A reception will be held Friday, Sept. 25, 2009, from 5 to 7 p.m., with an artist's lecture at 5:30 p.m. The exhibition and reception are free and open to the public. Additional work by Hassenfeld will be on view at Cade Tompkins Editions/Projects, 198 Hope St., Providence, from Friday, Sept. 25, through Saturday, Nov. 14, 2009.
Kirsten Hassenfeld, Dans la Lune (2007)Trained in printmaking, papermaking, and bookmaking, Hassenfeld has used paper as her sculptural material since 1999, creating translucent sculptures that have been characterized as "extravaganzas of the handmade." Each work is the result of thousands of hours of handwork. Hassenfeld cuts, folds, glues, rolls, or coils tissue paper, vellum, and corrugated paper into small elements — beads, swags, etc. — that are then combined into representations of ornamentation and the decorative arts. Hassenfeld's oversized jewels have been interpreted as critiques of luxury goods and public displays of wealth. Her love of ornamentation, she says, adds "a human quality to whatever it adorns."
The Bell Gallery exhibition includes a new series of works entitled Blueware, created specifically for this exhibition, and Dans la Lune,– a fanciful installation of ornate hanging sculpture that was commissioned in 2007 by the Rice Art Gallery in Houston. Four to eight feet in diameter, the seven gigantic droplets in Dans la Lune resemble cameos, the onion domes of Russian architecture, and elaborate Christmas ornaments, according to Jo-Ann Conklin, director of the Bell Gallery. Close inspection of Dans la Lune reveals a profusion of swags, chains, honeycomb beads, and gem-like crystals, as well as a branch holding a tiny swing, a woman demurely leading a lacey pony within a miniature gazebo, and a pendant featuring Bacchus raising his cup of wine. "Lit from within, the installation glows with an ethereal light, creating an otherworldly environment in keeping with the installation title. The French idiom refers to daydreaming and can be translated as 'head in the clouds,'" Conklin said.
Kirsten Hassenfeld, Blueware Drawing Number One (2009)
Ink on vellum, 20½" x 18". Courtesy of the artist and Cade Tompkins Editions/ProjectsIn her new work, Hassenfeld turns more specifically to nature. Sparked by the differences between hybrids and natural wildflowers, which she relates to the hierarchy between decorative and fine arts, the artist has created a series of sculptures that reference nature (trees, clouds, flowers) and the decorative arts (vases). Stylistically the works resemble "a mad combination of Chinese export ware, English Willoware or Delft, and Rococo profusion," Conklin said. The centerpiece of the new work is a 6' x 8' tree.
The David Winton Bell Gallery, located on the first floor of List Art Center, 64 College St., is open from 11 a.m. to 4 p.m. Monday through Friday and on Saturday and Sunday from 1 to 4 p.m. For more information, call (401) 863-2932.
Kirsten Hassenfeld
Kirsten Hassenfeld's work has been included in numerous group exhibitions throughout the Northeast, including Material Pursuits at the Robert Hull Fleming Museum, University of Vermont (2007); Crafty at the Sandra and David Bakalar Gallery, Massachusetts College of Art (2006); Light x Eight: The Hanukkah Project at the Jewish Museum (2006); Greater New York, PS1 Contemporary Art Center (2005); and Open House: Working in Brooklyn at the Brooklyn Museum (2004). She has held residencies in New York City at Dieu Donné Papermill (2005), the Marie Walsh Sharpe Art Foundation (2004), and Smack Mellon Artist Studio Program (2003); and at the Bemis Center for the Arts, Omaha, Neb. (2001). Hassenfeld was awarded a grant from the Pollock-Krasner Foundation in 2006 and was recently commissioned to create a Percent for Art project for the New York City Department of Cultural Affairs.
Hassenfeld was born in Albany, N.Y., and received a B.F.A. from the Rhode Island School of Design in 1994 and an M.F.A. from the University of Arizona–Tucson, in 1998.
Editors: Brown University has a fiber link television studio available for domestic and international live and taped interviews, and maintains an ISDN line for radio interviews. For more information, call (401) 863-2476.