Native American activists and performers will come to campus for the third-annual celebration this weekend.
PROVIDENCE, R.I. [Brown University] — The campus coalition Native Americans at Brown has teamed up with the Native American Heritage Series and Brown's Native American and Indigenous Studies initiative to host two events this weekend in celebration of Indigenous People's Day.
A panel on Friday, Oct. 5, called Seventh Generation Rising will bring together three Native American young leaders for a discussion on contemporary indigenous activism. The panel features Bobbi Jean Three Legs, who led the effort to resist construction of the Dakota Access Pipeline at Standing Rock Indian Reservation; Byron Shorty, a prominent voice of dissent in the recent decision to downsize Bears Ears National Monument; and Kara Roanhorse, a student leader in the 2015 campaign that spurred the Brown faculty to vote to formally recognize Indigenous People's Day.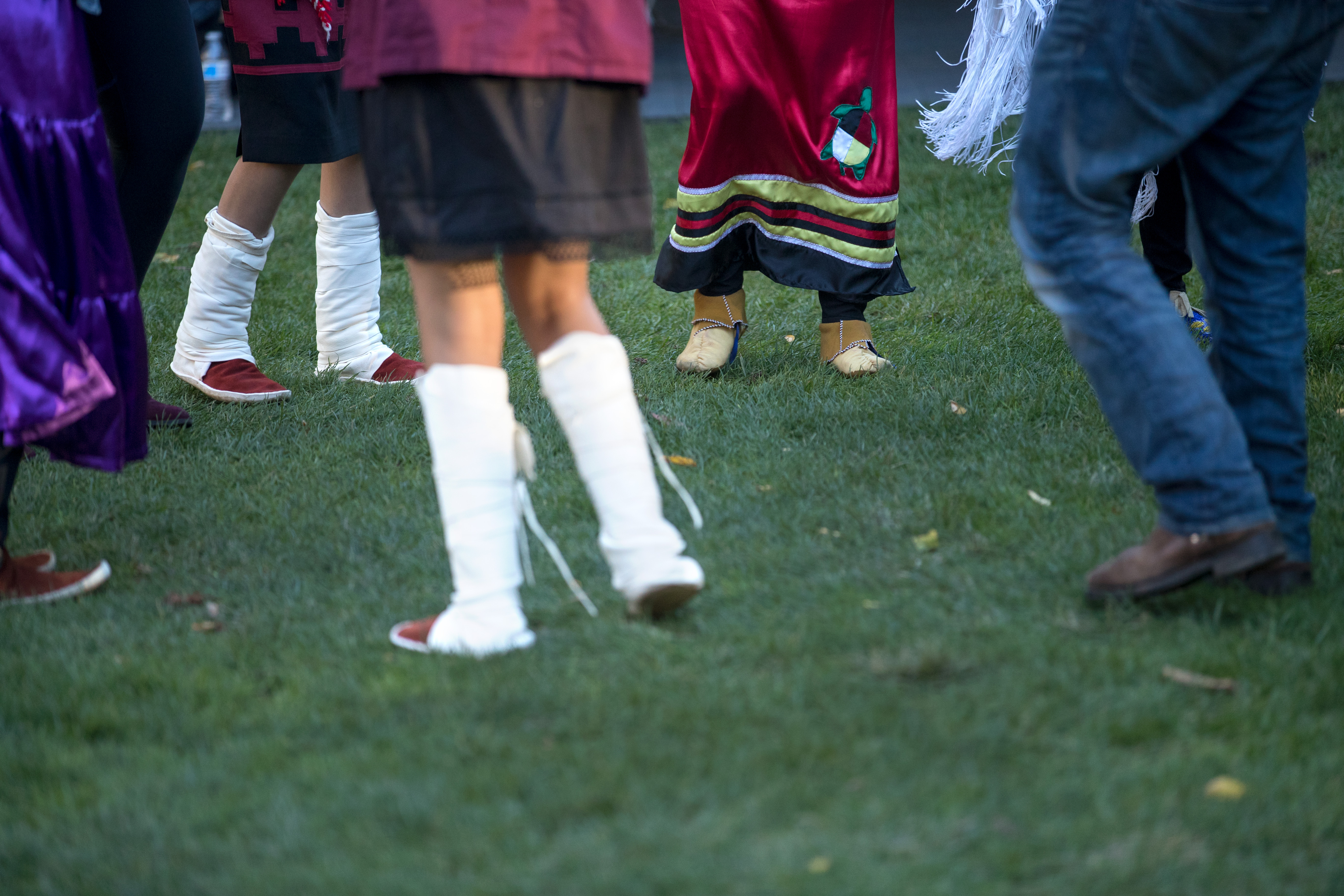 Student organizer Ruth Miller, who grew up in Alaska as a member of the Curyung tribe of Dena'ina Athabaskan, said she hopes the panel demonstrates to the public that Native American disenfranchisement across the country is as much a contemporary issue as a historic one.
"Indigenous People's Day is an opportunity for everyone to not only recognize native people's historic sacrifices and battles but also to recognize that we are still fighting today," Miller said.
Saturday's events, organized by Miller and fellow students, will bring celebratory cultural activities and food to campus. The free, public celebration includes stand-up routines by Ladies of Native Comedy, music by Iron River Singers and catered food from Mashpee Wampanoag chef Sherry Pocknett.
"Saturday is really a pure celebration, a testament to the strength and resiliency of indigenous peoples everywhere," Miller said. "I hope it demonstrates how our rich culture, tradition and history has kept us strong and powerful in the face of the exploitations and atrocities we've suffered."
This year's celebration is the third since the Brown faculty vote to designate the second Monday of October as Indigenous People's Day. The holiday was for many years called Fall Weekend until, in 2015, Native American students and allies led an effort that called on faculty to reconsider the name.
"The decision to recognize Indigenous People's Day sent a message to native communities and other universities that Brown takes native issues seriously," said Assistant Professor of American Studies Elizabeth Hoover, who teaches courses on environmental health and justice in Native American communities and is herself of Mohawk and Mi'kmaq ancestry. "Other universities since then have looked to follow Brown's example."
Miller reflects on the 2015 activism, which culminated during her first semester on campus, with pride, saying it was a crucial early step toward bolstering opportunities and resources for Native Americans at Brown and beyond.
"I do celebrate the progress Brown has made and I am appreciative of the change," she said. "It's important to recognize indigenous peoples not just on the second Monday in October but also every day. They did and still do exist everywhere we go."
The Seventh Generation Rising panel will take place on Friday, Oct. 4, at 4 p.m. in Room 108 of Friedman Hall. Saturday's Indigenous People's Day celebration starts at 2 p.m. in the Sayles Hall Auditorium. Both events are free and open to the public.