Brown's School of Professional Studies will join fellow tenants Johnson & Johnson and the Cambridge Innovation Center in the Jewelry District building being developed by Wexford Science & Technology.
PROVIDENCE, R.I. [Brown University] — Since ground broke last September, a series of cranes has dotted the Providence skyline as the steel structure of the city's future Innovation Center has progressively taken shape on former Interstate 195 land in the heart of the Jewelry District.
On Tuesday, March 27, one of those cranes lifted the building's highest steel beam — adorned with the signatures of individuals involved in its planning and development — into place. In the traditional spirit of topping-off, an American flag and a small tree perched atop the beam as it moved skyward.
The ceremony marked a major milestone for the most recent in a series of public-private partnerships bringing new life to the city's Jewelry District.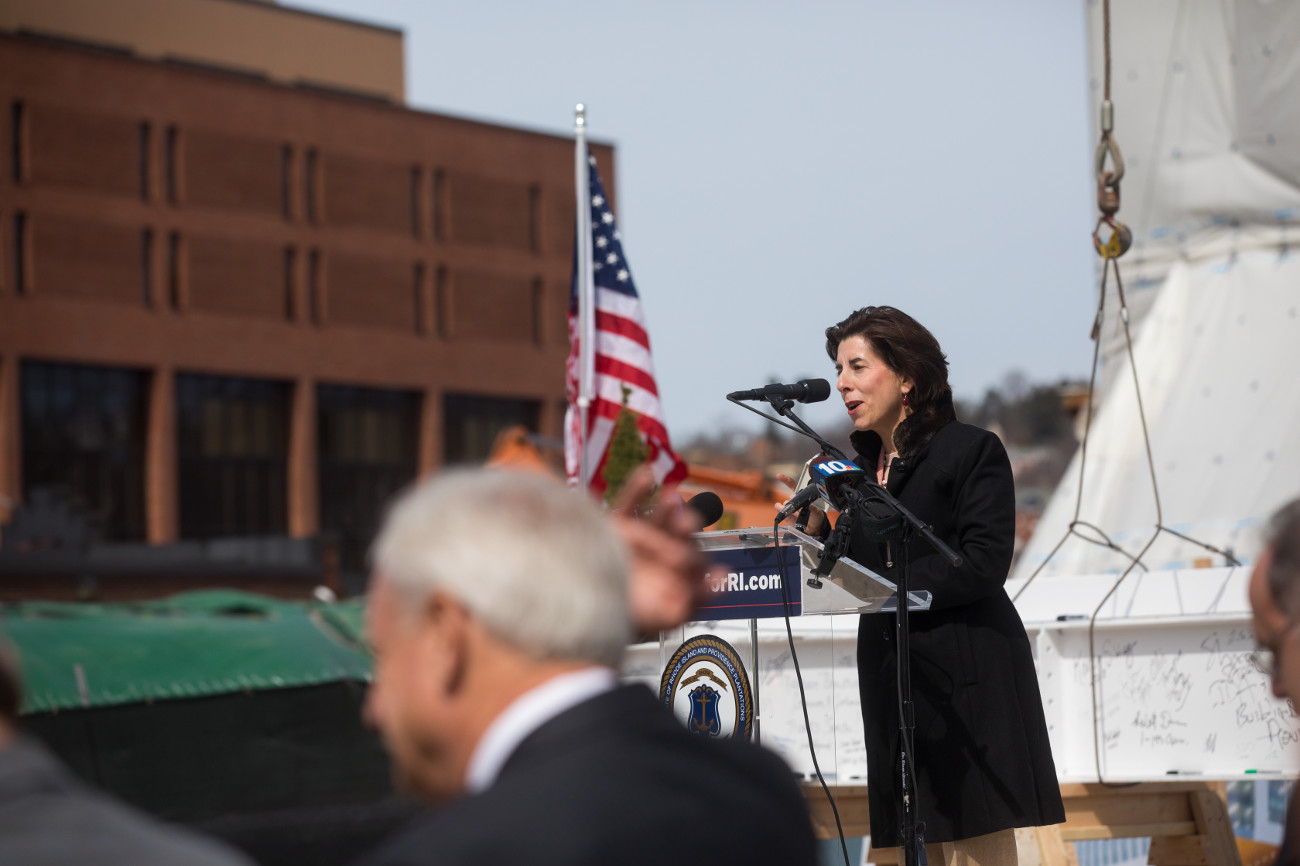 "For too long, the I-195 land was vacant," Rhode Island Gov. Gina Raimondo said. "Today marks the continuation of something transformational — not just for this land, but for our state and its economy. Wexford, Cambridge Innovation Center, Johnson & Johnson, Brown University and others are making an investment in Rhode Island because we are making crucial, forward-thinking investments in our people and our economy."
Raimondo and Providence Mayor Jorge Elorza joined other elected and business leaders on Tuesday with representatives from building developer Wexford Science & Technology and future tenants Brown, Johnson & Johnson and the Cambridge Innovation Center.
"When I went over to sign that beam, I got the chills because so many of us have been working for this for so long... Now it's real." Raimondo said. "It's going to be a real beehive of economic activity."
The Innovation Center will serve as the new home of Brown's School of Professional of Studies, along with the Cambridge Innovation Center (CIC) — an incubator that assists entrepreneurs in launching new products and companies — and the multinational pharmaceutical and consumer goods manufacturer Johnson & Johnson. SPS will occupy 50,000 square feet on the building's fourth and fifth floors.
"For Brown, the opportunity to become an anchor tenant in the Innovation Center furthers the University's investment in projects that are catalyzing the local economy and contributing to a vibrant ecosystem of academics, commerce and innovation," said Karen Sibley, SPS dean and vice president for strategic initiatives at Brown.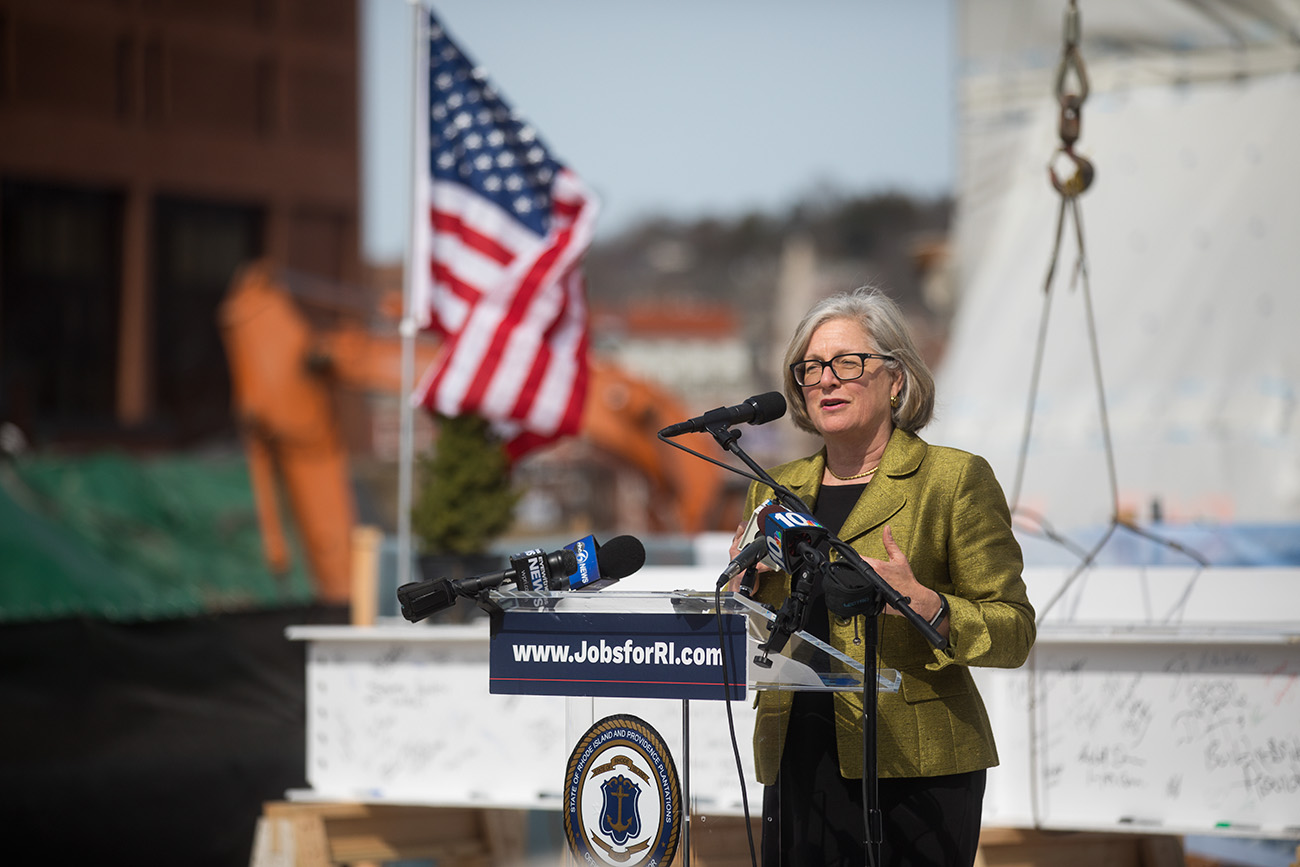 SPS, currently located across the street at 200 Dyer St., offers an array of master's degrees for mid-career professionals, including an executive MBA and programs in technology, cybersecurity and health care. Students are accomplished professionals from around the globe who travel to Providence for one- and two-week residency experiences during their studies.
Sibley said the new space will enable SPS to significantly expand its mission of educating and engaging populations not served by Brown's residential undergraduate programs and also offers the potential for collaboration between CIC startups and Brown student, faculty and alumni entrepreneurs.
"For our executive master's students who come to Providence from across the globe, the project will mean a new home, expanded academic programming and a wealth of new potential for collaboration with long-time business leaders and emerging startups alike," Sibley said on Tuesday.
Brown's anchor tenancy in the Innovation Center continues the University's commitment to collaborative growth and economic development in the Jewelry District, where the University has invested more than $225 million over the past decade. The Innovation Center is located next to the University's Warren Alpert Medical School and just blocks from South Street Landing, a recently redeveloped power station that includes 136,500 square feet of space that is home to 11 Brown administrative offices and more than 400 Brown staff members.
The 191,000-foot Innovation Center is projected to open in summer 2019.