The former secretary-general of the United Nations encouraged U.S. citizens to look beyond their borders — and to women and young people — to find solutions to global climate change, poverty and war.
PROVIDENCE, R.I. [Brown University] — Ban Ki-moon, secretary-general of the United Nations from 2007 to 2016, says that while progress has been made in alleviating global conflict and suffering, much work remains to realize the 17 ambitious sustainable development goals to which U.N. members committed in 2015.
Those goals, which he returned to throughout his remarks at Brown University on Feb. 26, range from eradicating extreme poverty and reducing income inequality to mobilizing international partnerships and financial resources to fight climate change.
"Despite the challenges we currently face, if we join together in strong partnerships… we can move forward, and we can achieve our global goals and create a brighter future," Ban told a crowd of nearly 500 students and community members during Brown's 96th Stephen Ogden Jr. Memorial Lecture on International Affairs.
Ban focused his remarks particularly on climate change, an issue that was a top priority for him during his tenure as secretary-general. In 2015, under his leadership, nearly 200 nations signed the Paris Agreement on climate change, which called on countries to combat global warming and to accelerate and intensify the actions and investments needed for a sustainable low-carbon future. In June 2017, U.S. President Donald Trump withdrew from the agreement, a move noted in Ban's remarks as "politically short-sighted, economically irresponsible and scientifically wrong."
"The bottom line is that we have no planet B, and therefore we do not have a plan B while facing this global crisis," he said.
On this issue and others, Ban encouraged young people to make their voices heard, saying that he has been encouraged by grassroots movements in the U.S. to combat global climate change despite the U.S. withdrawal from the treaty.
"I am asking you, young people, to speak out," Ban said. "This is your future. This is the world where you will continue to live. Let's work together so that succeeding generations will have no concerns for their future."
He said that world leaders must do more to engage both youth and women in creating sustainable political and economic change — citing his successful push for the creation of U.N. Women, an initiative that consolidated the U.N.'s work around women's issues.
"We must do more to engage and empower these two groups, as they are the enablers of sustainable development," Ban said. "We must help unlock their unbridled potential as the agents of change."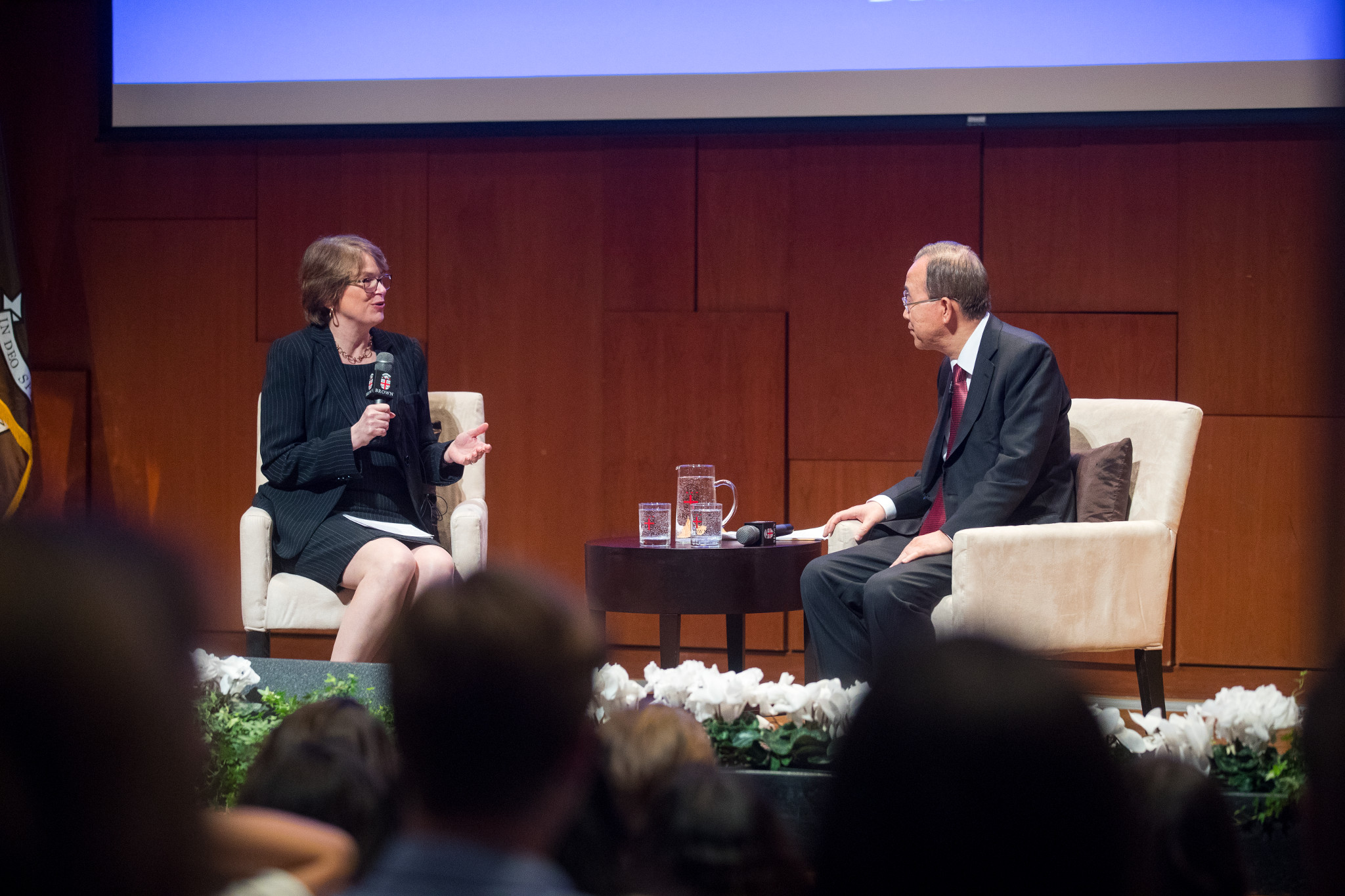 In his remarks, Ban also addressed conflict between North Korea and the global community, saying that he was encouraged by the "small signs of conciliatory process" between North Korea and South Korea, Ban's home country, during this month's Winter Olympics in Pyeongchang.
"I hope that this small door of opportunity will lead to a genuine and more meaningful, constructive dialogue," he said.
Additionally, Ban noted the important role of academic institutions as partners in effecting global change.
"Educational institutions and research centers like Brown University are essential partners in this work," he said. "They serve as launchpads for new ideas and incubators to forge new solutions to the seemingly insurmountable problems we face."
Throughout his lecture, Ban repeatedly stressed the importance of global citizenship and thinking beyond national borders.
"Global citizens are those who identify themselves not as members of a nation but as members of this world community," he said. "Look outside your state and your country. Think beyond yourselves… you hold the keys to unlock a more sustainable, peaceful and prosperous world."