Urban studies concentrator Gray Brakke is using his technology know-how to shed light on the understudied subject of welfare services available to low-income residents in the suburbs.
PROVIDENCE, R.I. [Brown University] —Gray Brakke, a rising senior at Brown University, has spent the summer mapping a problem not many people know about — the increasingly suburban nature of poverty and a frequent lack of services available to low-income people who reside outside of urban centers.
Brakke, an urban studies concentrator from Northville, Michigan, with experience in geographic information system (GIS) mapping, worked with Margaret Weir, a professor of international and public affairs and political science at Brown. He created visual maps of metropolitan areas that analyze how organizations — human service agencies, affordable housing organizations, food banks and employment centers, for example — serve low-income communities in cities and the suburbs surrounding them.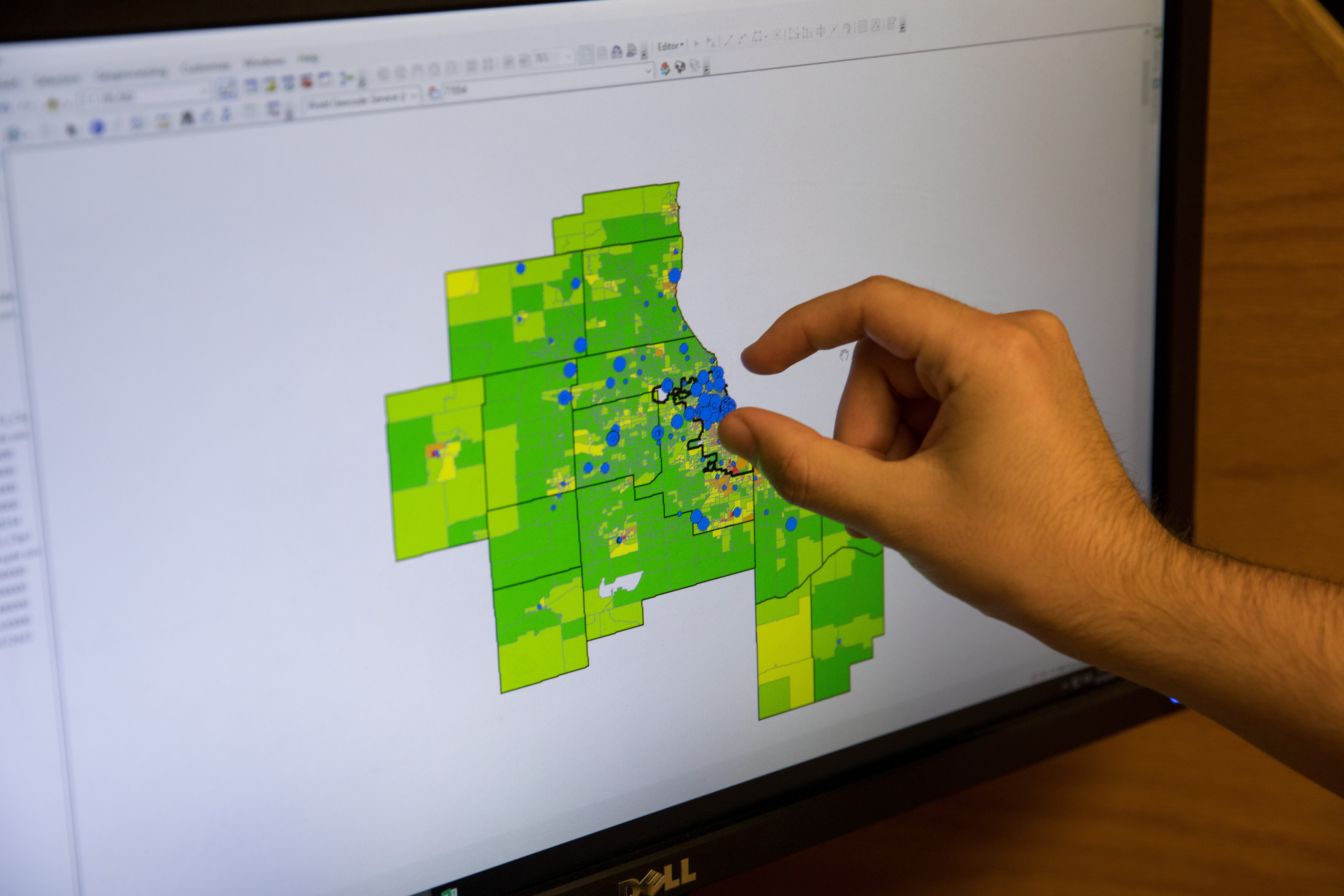 The student and professor had not worked together previously, but Brakke, who knew he wanted to explore suburban poverty as a thesis topic, discovered Weir's research on spatial socioeconomic inequality last fall and proposed a joint project.
"Gray came across a description of my work and came to talk to me," Weir said. "We both agreed it would be great."
The two outlined a proposal and won an Undergraduate Teaching and Research Award (UTRA) to launch into the work this summer. Brakke used data that Weir had collected on three metropolitan areas — Chicago, Atlanta and Houston — to create comprehensive maps that allow a viewer to understand the socioeconomic make-up of each place alongside the types of social services available there.
Brakke created maps marking city and county boundaries and indicated the percentage of people earning less than 150 percent of the poverty level in each census tract. Next, he added points sized proportionately to charitable services' annual expenditures in the area: larger points represent greater funding devoted to services; smaller points represent smaller amounts.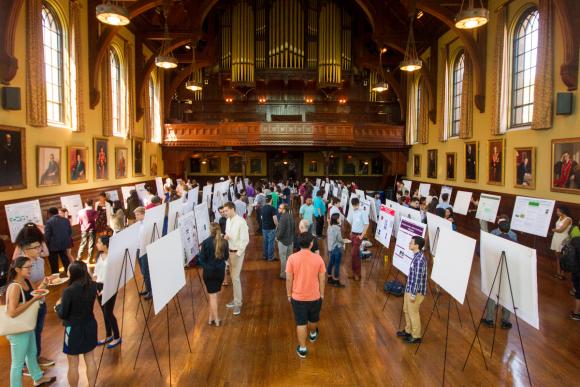 "Mapping helps visualize how policies get put into place," Brakke said. "Mapping public service provision relative to localities' social characteristics like size, median income, race and immigrant status allows us to analyze how organizations respond to needs within their areas."
While Brakke had prior experience making GIS maps through work with Brown's Spatial Structures in the Social Sciences (S4) initiative, his UTRA project required completely new skills in the software, he said. He developed those capabilities with help from a postdoctoral researcher in S4 — and by spending a great deal of focused time at a workstation in the political science department.
In addition to expanding his technical skills, Weir said, Brakke worked with her during weekly meetings to break down how much and what types of information to incorporate and how to most effectively display the data.
The maps Brakke created help Weir, who is writing a book on how the concerns of low-income residents are being addressed across metropolitan areas, analyze how organizations' services align with communities' needs. Weir may decide to include the maps in the book, or make them available to researchers on her web site down the line.
While the mapping project concludes this summer, Weir and Brakke may continue to work together on creating maps representing data for years beyond those included in the summer project.
And Brakke, whose research experience this summer has prompted him to reorient his approach to his thesis, said he plans to invite Weir to be one of his thesis readers. Originally, he had planned to look at suburban poverty through the lens of history and incorporate some demographic analysis. Now, he plans to take into account welfare resources and consider the policy implications and origins of suburban poverty.
"I'm looking at what sort of policies have created these levels of poverty in the suburbs and what policies, if any, are being created to address that," Brakke said. "Because as I've been discovering, there's not a lot of focus on it."
Down the line, Brakke said, he would like to pursue a career in research that has policy implications, something for which the UTRA project has helped prepare him.
"It has been a great opportunity to get to know a faculty member and learn what research is like on a day-to-day basis," he said.