In curating this year's theater season, Brown students and faculty sought to bring issues of diversity and inclusion into the limelight.
PROVIDENCE, R.I. [Brown University] — On a late February night in Brown University's Stuart Theatre, the 19-person cast of the musical "In the Heights" sits in chairs on the stage, face-to-face with the pit orchestra. The students have been rehearsing four hours a day since returning to campus the week before winter break ended, but this is the first time they'll sing accompanied by live music. Their excitement about this next stage in production — when hours upon hours of hard work come to fruition — is palpable. The music begins, and student actor Richard Flores launches into the show's first number:
I am Usnavi and you prob'ly never heard my name
Reports of my fame are greatly exaggerated
Exacerbated by the fact that my syntax
Is highly complicated 'cuz I emigrated
From the single greatest little place in the Caribbean:
Dominican Republic!
I love it!
Though they are seated, not a single body in the room stays still. Every actor moves to the music — bodies swaying, legs tapping, heads nodding — and soon the entire cast explodes into song:
In the Heights
I hang my flag up on display
It reminds me that I came from miles away
"In the Heights," written by Lin-Manuel Miranda — best known for the Broadway hit "Hamilton" — is the sixth show in Brown University Theatre's 2016-17 season. The centerpiece shows performed each year are selected by Sock & Buskin, a 116-year-old board made up of faculty and students who read through hundreds of possibilities before planning the season in a cooperative decision-making process. Though Sock &Buskin has long been attentive to issues of representation in their selection process, last year's University-wide conversations around diversity and inclusion — as well as protests and teach-ins about race and social justice at Brown and on campuses nationwide — inspired them to more formally reflect on those subjects through this year's choice of plays, writers, directors and casting, said Patricia Ybarra, chair of Brown's Department of Theatre Arts and Performance Studies.
"In the Heights" is perhaps the most obvious selection for this kind of season at Brown; one of the main characters is a first-generation Latinx student who returns from Stanford University to Washington Heights, the New York City neighborhood she grew up in. However, all of the shows work together to reflect diversity more broadly and to address — in everything from casting to production to performance — the strengths and challenges universities face in making contemporary performances that cultivate inclusivity and social change, Ybarra explained.
The season was informed by both Brown's recently released Diversity and Inclusion Action Plan (DIAP) — which called on each University department to develop concrete strategies to build and sustain a culture of inclusion — and the national political and social context where issues of racial justice, in particular, had come rushing to the forefront.
"Last year, we were having a lot of conversations about what diversity meant at this point and what we needed to do in terms of the very particular issues at play," Ybarra said. "We had the DIAP in mind, but we were also thinking about issues of systemic racism that we were seeing nationally in the form of specific physical brutality against African Americans. So we wanted to think through that critically. We thought, ok, maybe we should do a diversity season. And then we asked ourselves the question: What does that really mean? I think we've always explored these issues, but now we are being more explicit about it. We are making the pedagogy more apparent and pointing more to what we are doing."
Along with "In the Heights," which premiered on March 2, the students and faculty of Sock & Buskin ultimately landed on a season that has so far included "By The Way, Meet Vera Stark," the story of a black actor in the 1930s who finds fame but struggles to break free of the Hollywood studio system, and "The Love Song of J. Robert Oppenheimer," which explores both Jewish identity and the moral questions posed by nuclear weapons. "Invasion!" — the final play of the season opening on April 6 — is a dark comedy about the West's construction of the Arabic male identity. Additionally, the season always includes three dance performances and the senior slot show, proposed to faculty and directed by a Brown senior. This year, that show was "Hecuba," a modern reimagining of the Greek tragedy, directed by Sienna Vann, who also chairs Sock & Buskin.
"When we choose the season, we always ask the questions: Why Brown? Why now?" Vann said. "That's the main question of every single play. Why are we doing this? What purpose does this serve? Last year we really tried to think about the stories that are not often told and how we could get those on our stages — the stories that people can relate to but never see."
This notion played out in Vann's "Hecuba," performed in November, which she said aimed to forefront the story of the defeated Queen of Troy — a character demonized in the original telling.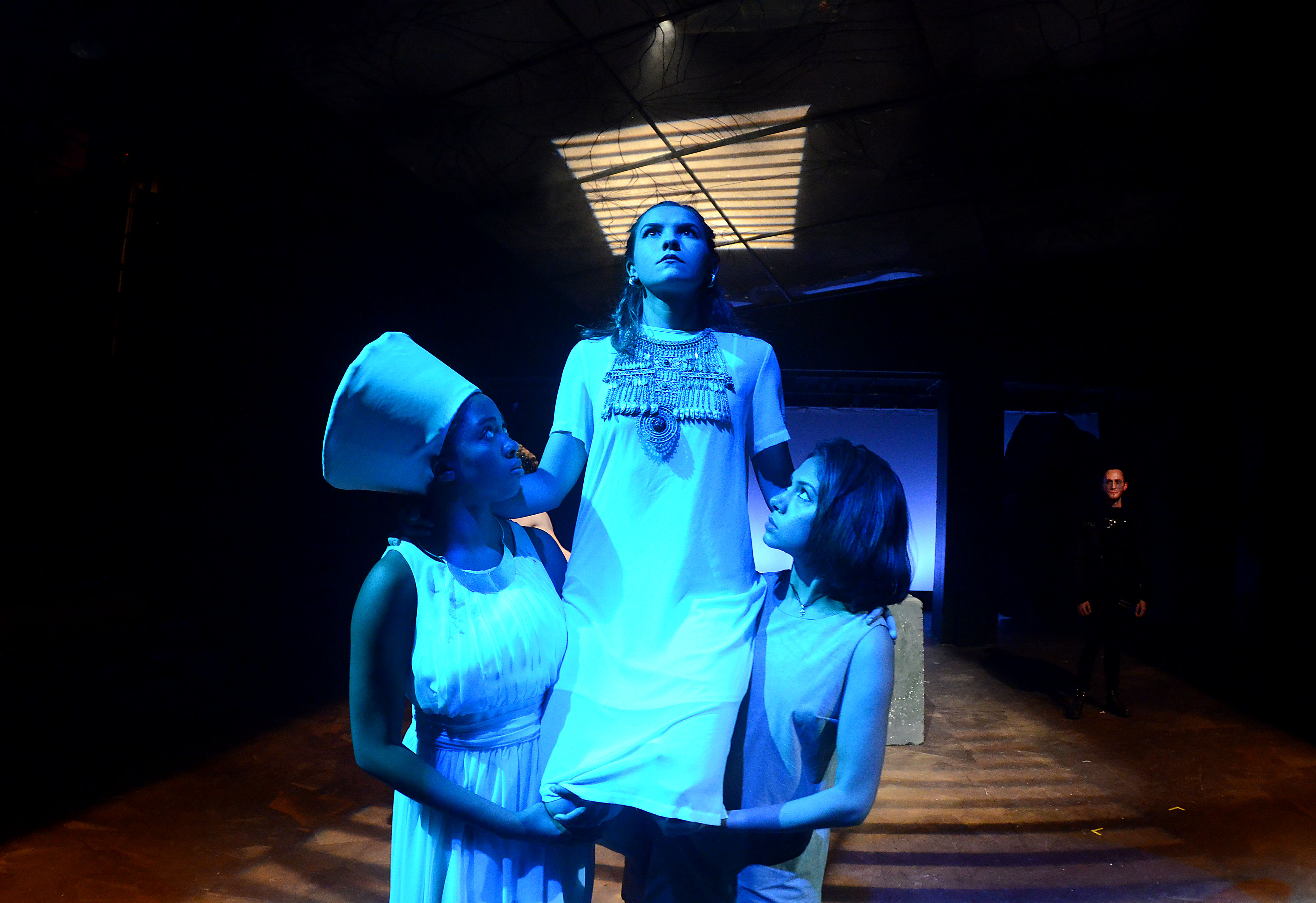 "It's the conquerors who have control over what is written as history and who attempt to erase the histories of other cultures," Vann said. "So I directed the show, imagining Trojans as being like people of color, these cultures and communities that others have attempted to erase."
Though a very different type of story, "In the Heights" also delves deeply into ideas of storytelling and representation — both through the plot and in the casting itself.
"The show is authentically cast with a majority of Latinx student actors," said director Sarah dAngelo, an assistant professor of theatre arts and performance studies. "Several members are also first-generation students. The story of this show is a deeply personal one on many levels for most of the cast."
The story focuses on a vibrant inter-generational Cuban, Dominican and Puerto Rican community in Washington Heights and the neighborhood's residents, who grapple with issues like gentrification, immigration, identity and belonging.
"In the Heights" has the benefit of being an easily digestible crowd-pleaser, said dAngelo, a musical by a celebrated songwriter filled with catchy music, Latin-inspired dance numbers and a lot of humor. "But there are some pretty potent messages in it that are quite prophetic and timely and absolutely need to be represented on stage," she said.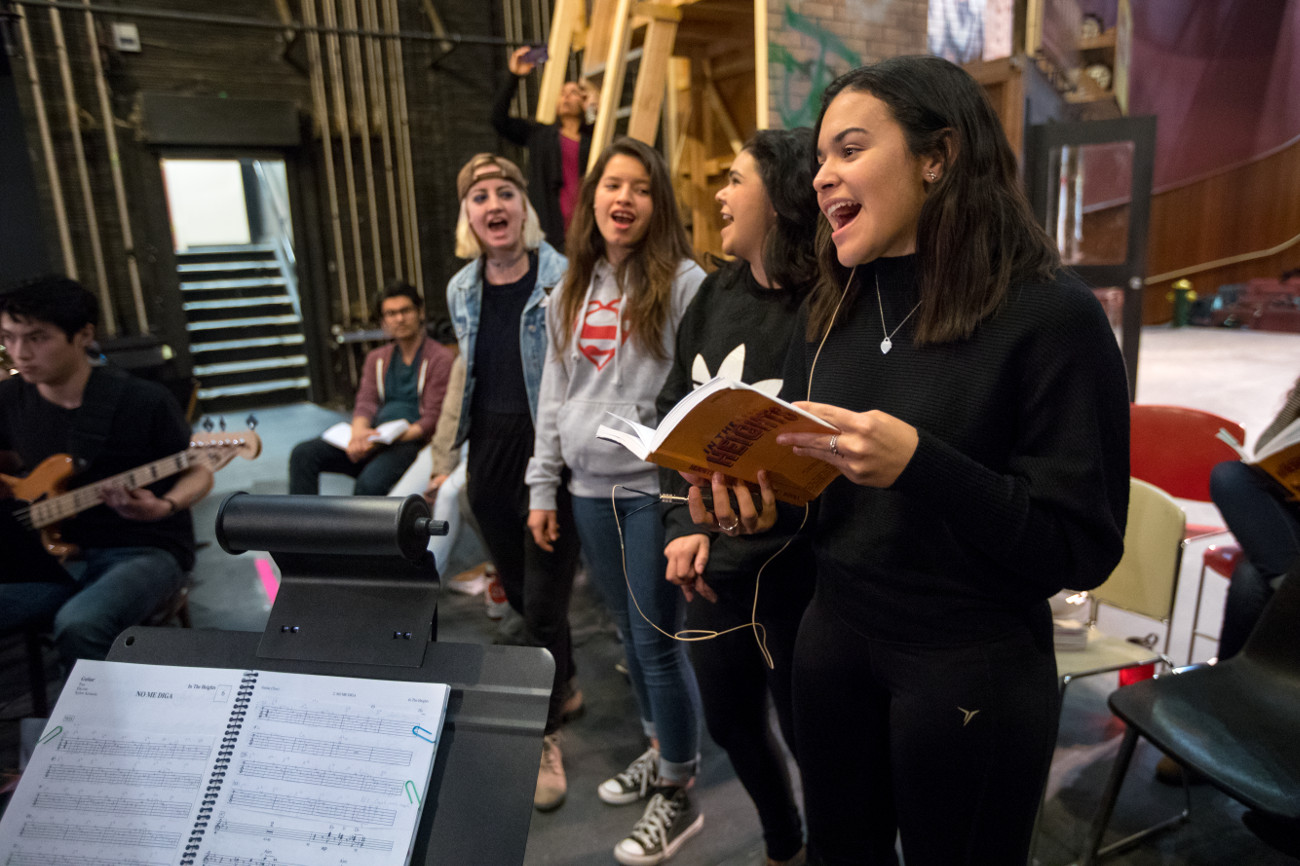 Flores, a first-generation Latinx student from East Los Angeles who plays the lead role of Usnavi, said the show — the last of his Brown career — has been transformative. After four years of performing on campus, Flores said that "In the Heights" for the first time allowed him to inhabit a role that represents his identity, enabling him to be an artist while also honoring his ethnicity.
"This is a story about my life; this is a story about my people," he said. "These characters are not stereotypes, they're not gang members, they're not criminals, they're not tokens, they're just people. This has been a space where I can really be who I am while also exploring my artistic side. And I thank Brown for giving students who are part of this show that opportunity. Because it's something we've all tackled with, all the cast members, these questions: Who am I? Where do I come from? Do I belong in this theater?"
If ticket sales are any indication, these themes resonate widely. As "In the Heights" approached opening night, nearly all the shows were sold out, with audiences coming from the Brown community and beyond.
In the midst of this excitement and momentum, Sock & Buskin has been hard at work finalizing its 2017-18 season. As the campus and national context has evolved, Ybarra said, so will next year's focus. Yet Sock & Buskin will continue to ask the question they have asked for decades when curating Brown's theater productions: Why Brown? Why now?
"This isn't to say that racial and ethnic diversity are no longer considerations, but now there are other issues coming up," Ybarra said. "For example, we are interested in addressing work that is not committed to a gender binary, looking at plays that have characters who don't identify as male or female or who are gender queer. The other conversation is political. There are a number of political plays that we are looking at that really deal with our moment or are parallel to our moment… It's work that is important and interesting and complicated and hard. But it needs to be done."