October 30, 2013
401-863-1862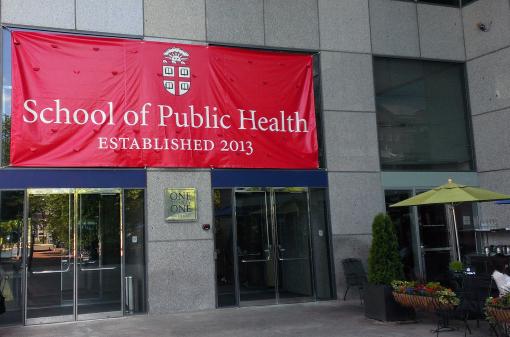 At the American Public Health Association meeting Nov. 2-6, 2013, in Boston, Brown researchers will present about three dozen research reports. Two faculty members will be honored with major awards and the University's new School of Public Health will welcome colleagues at a special reception.
PROVIDENCE, R.I. [Brown University] — With about 35 research talks and posters to present and two major awards to collect, Brown University faculty and students will have a significant presence at the annual meeting of the American Public Health Association in Boston Nov. 2-6, 2013.
"Public health research is a nationally recognized strength at Brown as demonstrated by our robust presence presenting peer-reviewed papers at the association meetings," said Terrie Fox Wetle, the inaugural dean of Brown's newly established School of Public Health.
At the conference, Wetle will receive a Lifetime Achievement Award for what the APHA's Aging and Public Health Section calls a "stellar record of service and contributions." Wetle has, for example, served as deputy director of the National Institute on Aging, president of the Gerontological Society of America, and has published more than 200 peer-reviewed papers in the field. The award will be presented Monday Nov. 4, 2013, at 4:30 p.m.
Kim Gans, director of the Brown University Institute for Community Health Promotion, will also receive an award at the conference for her innovative work to promote fruit and vegetable consumption in schools, workplaces, and neighborhoods where cost and access can be barriers to healthier eating. Gans will receive the Food and Nutrition Section's Mary C. Egan Award on Nov. 3 at 6:30 p.m.
Research to relay
Dozens of Brown University researchers, not only from the School of Public Health but also from Alpert Medical School and the University's sociology department, will present their work on subjects such as addiction, HIV, elder care, children's health, injury prevention, and global health. A full list of projects with links to abstracts can be found on the Brown School of Public Health website.
Among each day's presentations:
Monday Nov. 4: Public Health doctoral student Cara Sammartino will talk at a roundtable discussion about her research on the health status of 118 HIV-positive Rhode Island prison inmates upon their release and how quickly they reconnected with health care after being released from prison.
Tuesday Nov. 5: Susan Miller, professor of health services policy and practice (research), will speak about her study of how Medicaid payments influence palliative care practices in nursing homes around the country and how that information can be used to increase nursing home investment in palliative care.
Wednesday, Nov. 6: Patrick Vivier, associate professor of pediatrics and health services, policy and practice, will discuss research on how social isolation and mobility of new mothers affects their use of health care for their infants. Moms who moved in their baby's first year, for example, were more likely to bring their baby to a doctor for a sick visit, but less likely to bring the baby in for a wellness visit.
Also on Monday, Brown will celebrate the new School of Public Health with a reception at the conference from 6:30 to 8 p.m.
"In addition to sharing our research at the conference, we'll be excited to announce the new Brown University School of Public Health to our public health colleagues," Wetle said.
Editors: Brown University has a fiber link television studio available for domestic and international live and taped interviews, and maintains an ISDN line for radio interviews. For more information, call (401) 863-2476.