July 27, 2013
401-863-1862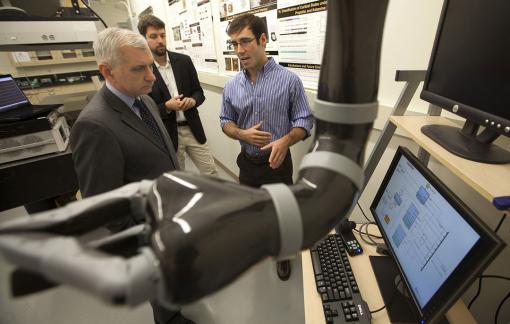 Less than three months after President Obama announced an initiative to advance brain science research, Sen. Jack Reed paid a visit to Brown to see examples of research at the forefront of the science.
PROVIDENCE, R.I. [Brown University] — U.S. Sen. Jack Reed visited two labs at Brown University on Friday, July 26, 2013, to learn about projects at the frontiers of brain science research.
After meeting with John Donoghue, professor of neuroscience, and other faculty and leaders from the Brown Institute for Brain Science and the Norman Prince Neurosciences Institute, Reed visited the labs of Christopher Moore in neuroscience and Arto Nurmikko in engineering.
Moore studies how the dynamics of the brain allow it to perform computations that lead to perception, behavior and, when things go awry, disease. He briefed Reed on several projects using cutting-edge technologies such as optogenetics and the two-photon microscope. In one such investigation, postdoctoral researcher Nathan Vierling-Claassen is conducting a fundamental study of brain circuits believed relevant to Parkinson's disease.
At Nurmikko's lab. Reed viewed the next generation of wireless sensors and electronics that could be used in systems to allow patients with severe paralysis to use brain signals to control devices ranging from robotic arms to computers. Doctoral students Chris Heelan and Jacob Komar showed him fully implantable, rechargeable, wireless devices that can pick up neural activity for translation into digital commands.
Reed said these kinds of advances fit well within the context of President Obama's recently announced Brain Research through Advancing Innovative Neurotechnologies Initiative.
"I think Brown is superbly positioned for leadership in this whole BRAIN Initiative because they are able integrate the basic research of how the brain works into clinical and commercial applications that will benefit thousands of people who are dealing with neurological diseases," Reed said. "It will benefit the economy, too, and the health care system in terms of what we hope eventually will be the cost savings of more efficient and more effective treatment."
Editors: Brown University has a fiber link television studio available for domestic and international live and taped interviews, and maintains an ISDN line for radio interviews. For more information, call (401) 863-2476.