June 29, 2013
401-863-7287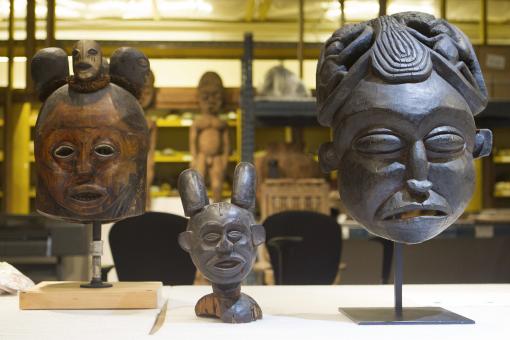 A delegation of expatriates from the Kingdon of Bangwa in western Cameroon visited the Haffenreffer Museum's collection of African masks. It was a rare opportunity for the visitors and for the museum, re-associating the artifacts with the people and society that created them.
On Friday, June 21, 2013, at its Bristol research center, the Haffenreffer Museum of Anthropology hosted a delegation of expatriate nobles and notables from the Kingdom of Bangwa in western Cameroon.
The visitors, some dressed in traditional regalia, came to the center to examine a collection of 19 masks in the Haffenreffer's collections that were collected in the mid-1960s by anthropologist Robert Brain. The masks were acquired during Brain's fieldwork and were purchased in London in the 1980s by a collector from New York City. That collector donated them to the Haffenreffer in 1988.
For much of the Bangwa delegation, it was an emotional visit. They remember Brain from his visits to their kingdom when they were children and largely credit him with changing Bangwa society and educational opportunities for the better. However, their success has made them, the children of the Bangwa ruling class, an expatriate generation. They now feel that their culture has lost a generation of continuity in the arts and ceremonial practice. They saw their visit on Friday as an opportunity to reconnect with artwork that could serve as important inspiration for current and future generations.
At the same time, the visit was an opportunity for the museum to gain further understanding of the pieces. For example, the father of the delegation's leader was a master carver who is thought to have carved some of the masks that Brain collected.
"We hope to re-associate our masks with the names and histories of the people who carved them and the people and events for which they were made," said Kevin Smith, deputy director and chief curator of the Haffenreffer Museum. "Rarely is such information available to African ethnographic art collections. If we are able to re-associate these masks with such information, our collection will become not only alive again to its culture of origin but also far more important for research, student study, and exhibition."
Editors: Brown University has a fiber link television studio available for domestic and international live and taped interviews, and maintains an ISDN line for radio interviews. For more information, call (401) 863-2476.