April 16, 2013
401-863-7287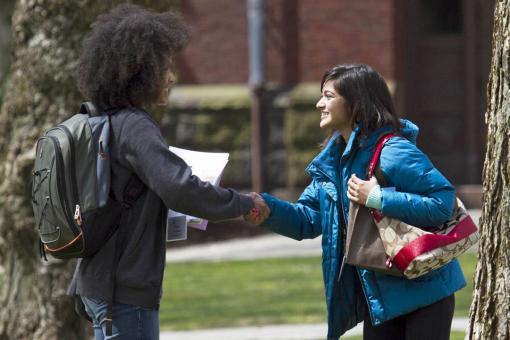 A record 829 accepted students attended the annual A Day on College Hill April 14-16, 2013. The event gives students a taste of college life at Brown, including a stay in the residence halls, meet-and-greets with campus organizations, and introductions to many concentrations from the sciences to the humanities.
Just two weeks ago, 2,649 students from across the country and around the world learned that they had been accepted to Brown's Class of 2017. This weekend, 829 of those students arrived on College Hill to get a taste of what life at Brown would be like.
"Each spring, hundreds of prospective students and their parents converge on campus to experience A Day on College Hill," said James Miller, dean of admission, whose office organizes the program. "For many of them, ADOCH has been an important factor in their decision to pursue an education at Brown, and we hope that this year's students left campus feeling that Brown is where they want to spend the next four years."
Another best class ever
Jim Miller, dean of admission, meets and chats with parents and students admitted to the Class of 2017.This year's event, which had a record number of registrants, kicked off on Sunday afternoon, April 14, with welcomes for visiting students from Provost Mark Schlissel and Miller. Over in Alumnae Hall, President Christina Paxson addressed more than 600 visiting parents. Students spent the rest of the evening settling in, getting to know their Brown student hosts, and attending events organized by several student groups, including the Black Student Union, EmPower, Puzzle Club, and members of the campus Latino, Asian, and LGBTQ communities. Late-nights included performances by Brown's a cappella groups, a Salsa Club workshop, and a block party in Smith-Buonanno Hall.
Next day, the focus shifted to academics, with a series of discussions on science, technology, engineering, and math (STEM) at Brown. Prospective students and their parents heard from undergraduates and faculty in applied mathematics, chemistry, computer science, engineering, geology, mathematics, and physics. Beyond the STEM concentrations, students could choose sessions on business, history, and pre-medicine. The afternoon included sessions on studying abroad, financial aid, Hillel and student theatre, and culminated with a Brown Band-led parade to dinner. The evening was once again filled with a variety of activities, including dance workshops, trivia, film, comedy, and an organ concert in Sayles Hall.
As events drew to a close on Tuesday morning, prospective students clustered together under the tent on the College Green, some sitting with parents, others laughing and snapping photos of one another. Kenneth Miller, professor of biology, took the stage, introducing himself as the author of their high school biology textbook, an introduction that elicited cheers from the audience. Miller talked about the Brown's Curriculum, which allows students to choose their own coursework outside of their concentration.
Miller closed with words that will prove true for many of the students in attendance: "I look forward to seeing you walk through those ceremonial gates when we have the Opening Convocation in September."
Images from ADOCH (click image for downloadable high resolution)
| | | |
| --- | --- | --- |
| Sam: Pied Piper of CS | The Dinner March | Fair of Academic Futures |
Editors: Brown University has a fiber link television studio available for domestic and international live and taped interviews, and maintains an ISDN line for radio interviews. For more information, call (401) 863-2476.