October 26, 2012
401-863-7287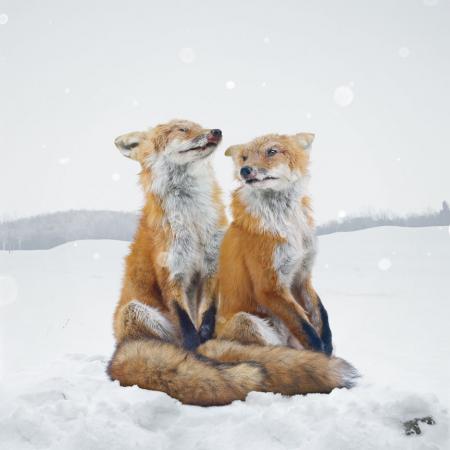 Opening Nov. 17, 2012, at the David Winton Bell Gallery at Brown University, Simen Johan: Until the Kingdom Comes is an exhibition of photography that captures domestic and wild animals in a way that crosses nature with fantasy. The oversized images give the viewer a sense of encountering the animal face-to-face.
PROVIDENCE, R.I. [Brown University] — The David Winton Bell Gallery presents Simen Johan: Until the Kingdom Comes, an exhibition of photographs and sculpture by the New York-based, Norwegian-born artist. The exhibition will run from Saturday, Nov. 17, 2012, through Sunday, Feb. 17, 2013, with an opening reception and artist's talk on Friday, Nov. 16, in List Art Center beginning at 5:30 p.m. The exhibition and reception are free and open to the public.
In Until the Kingdom Comes — the ongoing series that Simen Johan began in 2006 — the artist creates a natural world that exists between reality, fantasy, and nightmare. The images are at once amusing, sweet, clever, mysterious, and foreboding. His oversized photographs — some measuring more than 8 feet — depict wild animals at nearly life size, increasing the sense of verisimilitude and often engendering a sense of awe at the viewer's face-to-face encounter with the animal.
"Simen Johan is among a generation of photographers who have taken full advantage of the medium's ability to distort reality," said Jo-Ann Conklin, director of the Bell Gallery. "Using analog and digital techniques, he creates works that are both fascinating and thought-provoking."
Simen Johan, Untitled #159 (2010)
From the series Until the Kingdom ComesDigital C-print, 63 x 80 inches
©Simen Johan, Courtesy Yossi Milo Gallery, New YorkJohan photographs animals in zoos and farms, occasionally employing taxidermy and roadkill. Uncanny elements may be captured during shooting — as in his image of a lamb that sits upright like a dog, which was taken with the help of a farmer who held the animal in position while the image was shot — or created through the use of digital manipulation.
Johan mixes sweet images appropriate to children's literature with dark and mysterious scenes that might illustrate primordial beginnings or apocalyptic ends, in an attempt to blend opposing forces, such as the familiar and the otherworldly, the natural and the artificial, the amusing and the eerie. Smiling owls and weeping foxes mimic human emotions. Two moose wage battle amidst a flock of parakeets. And, in a particularly dark and foreboding image, a bison (the symbol of the American West) lies on the ground amidst a landfill. This image may speak to our individual ends or to the environmental and political decline of our nation. According to Johan, the series functions as a way "to get to some sort of truth about the instability of meaning," and he notes that it is his "attempt to reconcile the irreconcilable as I explore the paradoxical nature of existence, its simultaneous abundance of beauty and horror."
Simen Johan is a 2012 recipient of the Howard Foundation Grant. A graduate of the School of Visual Art in New York and Lugnetskolan, in Falun, Sweden, he has shown at New York's Museum of Art and Design, the Brooklyn Museum of Art, and the DeCordova Museum and Sculpture Park in Lincoln, Mass., among other institutions.
The David Winton Bell Gallery, located on the first floor of List Art Center, 64 College St., is open from 11 a.m. to 4 p.m. Monday through Friday and on Saturday and Sunday from 1 to 4 p.m. For more information, call 401-863-2932.
Editors: Brown University has a fiber link television studio available for domestic and international live and taped interviews, and maintains an ISDN line for radio interviews. For more information, call (401) 863-2476.