August 2, 2012
401-863-7287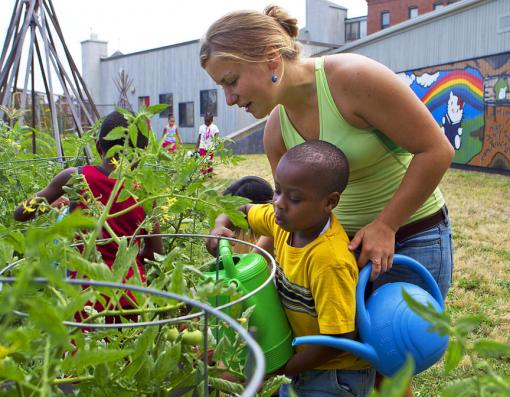 A Brown-led community garden at Providence's John Hope Settlement House nourishes little minds and bodies by helping children ages 3 through 12 learn about urban agriculture while enjoying the fruits of their labor.
PROVIDENCE, R.I. [Brown University] — It's a hot and humid day in July at the John Hope Settlement House on Providence's West Side. As her classmates scurry about with watering cans in hand, a young girl tugs eagerly at a clump of green leafy fronds poking out of the soil in a wooden planting bed. Without too much effort she gets her reward: a bright orange carrot, sweet and warm from the sun. She runs to a nearby spigot to give it a quick rinse, her pink skirt bouncing with every step, and then takes a bite as a satisfied smile spreads across her face. It brings a whole new meaning to the term "fast food," which was exactly Kathryn De Master's goal when she set about building this community garden.
A visiting assistant professor of environmental studies, De Master has focused much of her work on community-based agriculture and food justice. So when she heard that the John Hope Settlement House had expressed interest in building a community garden as part of its sustainability outreach efforts, De Master saw it as a practical application of the research she had been working on. "I had done some community garden work in the past in other settings, so I was very interested in getting involved in an urban project with my class. I was particularly interested in the John Hope Settlement House because of the diversity of the programs they offered to the community. I thought it was a good fit for what I was teaching and an opportunity for the Brown students to get involved," De Master said.
A new kind of fast food
Yank a carrot, wash it off, and it's ready to munch. But spinach is easily the kids' hand-to-mouth favorite.Construction on the planting beds began in 2010, and the first garden was planted in the spring of 2011. Brown students who are part of De Master's "Sustenance and Sustainability" class help to maintain the gardens and work with the young children there to impart lessons on growing and caring for the plants. De Master also credits Nancy Lowder, John Hope's Early Learning Center director, with encouraging teachers at the school to get their classes involved with the garden and use it as a learning tool.
De Master is quick to point out that the learning at John Hope goes both ways. "Brown students learn what it's like to grow a garden, about the cultural backgrounds of the children, and their cultural preferences for food, and the kids at John Hope take away knowledge about the garden and nutrition."
The project was funded by the Swearer Center's Engaged Scholars Initiative, which connects faculty research with a community need while also giving Brown students the opportunity to participate in research. Since its inception, the initiative has has supported 22 faculty across 17 disciplines. Last year more than 600 students took courses supported by the initiative.
A grouping of beds in the front yard of John Hope Settlement House greets visitors when they arrive. Tomatoes, pumpkins, melons, cucumbers, and marigolds - a natural pest deterrent - are lush with green leaves and the growing harvest. They're tended daily by the children in the Early Learning Center, who get lessons in watering, weeding, and identifying the vegetables and herbs. The children often get to see the fruits of their labor put to good use in the form of a fresh pesto on their pasta or a cooked spinach side dish at lunch.
"We have 3-year-olds that already know what basil is," De Master said, who adds that the children often go home with green tongues from sneaking leaves of spinach, one of their favorite vegetables in the garden, throughout the day. "One cliche is that kids don't like veggies, which is totally not true, especially if they can grow their own."
Mixed in among the plants are "tipi trellises," wooden structures covered in squash vines that provide children with a shelter to play and hide in.
Behind the building is a second set of beds tended to by students ages 6 through 12 who are part of John Hope's after-school program, as well as a rain barrel and compost pile, used to teach sustainable gardening practices in real time.
A place of beauty
Brenda Zhang, concentrating in environmental studies and visual arts, is giving the garden space a makeover and has plans for a community mural on the back wall.Cooking lessons using vegetables from the garden and family recipes provided by the children are also part of the regular rotation of activities. De Master says the cooking not only shows the young children how to use the vegetables that they've helped grow, but sometimes gives Brown students an unexpected chance to learn about different cultures in the local community.
"I'll never forget when we were planning what to plant in the garden. One of the children asked if we could plant collards and one of the Brown students asked 'What are collards?' It's really a co-learning experience," De Master said.
The John Hope Settlement House is one of the oldest settlement houses in the country, playing many roles in the local community. In addition to the Early Learning Center and after-school program, John Hope offers adult education classes, extra-curricular sports, and job training. De Master hopes that the garden will eventually expand to involve a larger circle of residents as another branch of John Hope's mission. She'd also like the educational curriculum to incorporate more math and literacy skills, in addition to the gardening and nutrition lessons it's already providing.
In the garden's last two years of operation, about 65 Brown students have been involved, the bulk of them during the academic year when they visit as part of De Master's environmental studies class. Each summer, a couple of students stay on to maintain the gardens and work with the children at John Hope. Last summer, seniors Dan Rajto and Lily Matthews led the effort to get the program off the ground, with Rajto manning the gardens and Matthews helping the children to develop an end-of-summer play that highlighted what they learned. By the end of August, the John Hope children were referring to the two as "Farmer Dan" and "Farmer Lily."
This summer, rising seniors Mary Alice Reilly and Brenda Zhang, Voss fellowship and UTRA recipients respectively, are using that funding to work on projects that will later become their theses.
Reilly, an evironmental studies concentrator, is using her experience at John Hope to explore the farm-to-school food movement model, including how to develop them in other communities and how to improve upon the existing model.
Zhang, a dual concentrator in environmental studies and visual arts, is hoping that her time at John Hope will give her a better sense of how space is used in a community-oriented way. When she arrived at the beginning of the summer, she passed out surveys to the teachers and polled students on what improvements they would like to see in the spaces around the gardens. So far, her projects have included giving a multicolored makeover to several large rocks and a circle of tires in the middle of the beds where the children gather for lessons. Plans are in the works for a mural on a rear wall near one grouping of garden beds.
Reilly and Zhang say that the research they are able to do at John Hope is giving them a new perspective on their areas of study, something they never could have learned in the classroom.
"I'm constantly learning, I'm constantly surprised. There's no other way of learning to engage than going there every day and doing it," Zhang said.
Editors: Brown University has a fiber link television studio available for domestic and international live and taped interviews. For more information, call (401) 863-2476.