April 24, 2012
401-863-7287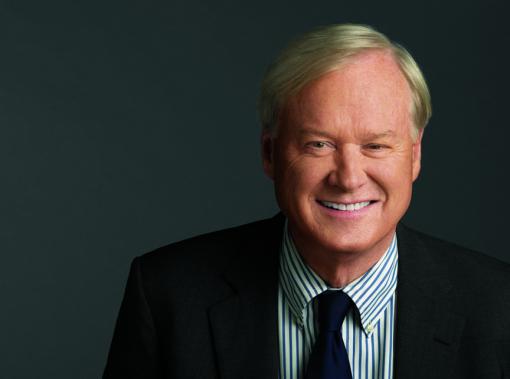 POSTPONED
Chris Matthews, host of Hardball who was to have delivered a Stephen A. Ogden Jr. '60 Memorial Lecture this evening (May 1, 2012), has been called away on assignment. The lecture will be rescheduled.
PROVIDENCE, R.I. [Brown University] — Journalist and political commentator Chris Matthews will deliver a Stephen A. Ogden Jr. '60 Memorial Lecture on International Affairs on Tuesday, May 1, 2012. Matthews' address, titled "John F. Kennedy's Profile in Courage," will begin at 8 p.m. in the Salomon Center for Teaching, De Ciccio Family Auditorium. This is a ticketed event open to the Brown community and members of the invited public. Seats not taken by 7:45 will be available for general seating.
Matthews has been following American politics since the first Eisenhower campaign. As a very young teenager, he became enthralled with the historic rivalry of John F. Kennedy and Richard Nixon. A decade later he was engaged in American politics professionally, working in the U.S. Senate after returning home from the Peace Corps in Africa. Later, he worked in the White House as a presidential speechwriter and then as a top aide to Thomas P. "Tip" O'Neill Jr., the legendary speaker of the House.
In the late 1980s, Matthews switched to full-time journalism, serving as Washington Bureau Chief for the San Francisco Examiner. In this capacity he covered some of the great historic events of the late 20th century, including the fall of the Berlin Wall and the first all-races election in South Africa.
He began his career on television in 1994 as host of a two-hour nightly program on the NBC-owned America's Talking network. Three years later, he launched Hardball, now on MSNBC, which was the title of his best-selling handbook on real-life politics, published in 1988. In 2002, NBC inaugurated Sunday morning's "The Chris Matthews Show."
He is the author of six best-selling books: Jack Kennedy: Elusive Hero; Hardball: How Politics is Played, Told by One Who Knows the Game; Kennedy and Nixon: The Rivalry that Shaped Postwar America; Now, Let Me Tell You What I Really Think; American: Beyond our Grandest Notions; and Life's a Campaign.
Stephen A. Ogden Jr. '60 Memorial Lecture
Since 1965, the Ogden Lectureship has presented the University and its neighboring communities with authoritative and timely addresses about international affairs. The lectureship was established in memory of Stephen A. Ogden Jr., a member of the Brown Class of 1960, who died in 1963 from injuries he suffered in a car accident during his junior year. His family created the series as a tribute to Ogden's interest in advancing international peace and understanding.
Dozens of heads of state, diplomats, and observers of the international scene have participated in the series, including Queen Noor of Jordan, former President of the Soviet Union Mikhail Gorbachev, President of Brazil Fernando Henrique Cardoso, former Canadian Prime Minister Kim Campbell, media innovator Ted Turner, astronaut Sen. John Glenn, economist Paul Volcker, Bolivian President Evo Morales, and Romano Prodi, former prime minister of Italy.
Tickets are available to members of the Brown community. Persons with current Brown IDs may reserve tickets beginning April 24, 2012, at 3 p.m. Doors open at 7:15 p.m. and guests must be seated by 7:45 p.m. Seats not taken by 7:45 will be offered to non-ticketed guests. Ticket holders must bring their Brown ID with their ticket. For more information, contact the Office of University Event and Conference Services at 401-863-3100 or visit brown.edu/web/chrismatthews/.
Editors: Brown University has a fiber link television studio available for domestic and international live and taped interviews, and maintains an ISDN line for radio interviews. For more information, call (401) 863-2476.