September 4, 2012
401-863-2752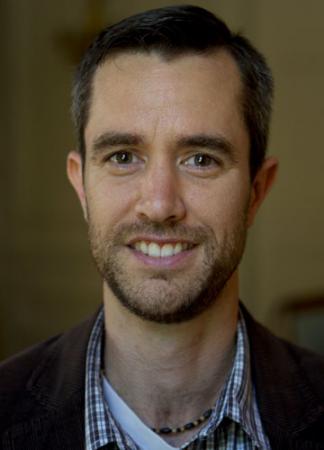 Sanskrit, David Buchta has found, is not just another language. "Like math, Sanskrit requires a certain amount of precision to read it, to write it, to speak it, to hear it. I think studying the Sanksrit language instills the value of very careful thinking."
David Buchta has traveled a circuitous route from his initial interest in becoming a chiropractor to his present status as Sanskrit scholar and expert in classical Indian literary theory, Indian philosophy, and ancient and medieval Hinduism.
His interest in Eastern philosophy began in high school when he read the Bhagavadgītā, which ultimately set him on a life-changing path. During his first year as an undergraduate at Emory University, still intent on pursuing chiropractic, Buchta became aware of a course in Sanskrit through a college friend of Indian descent. Buchta signed on for the course so he could read the original Sanskrit text of the Bhagavadgītā for himself, which opened up a whole new world to him.
Rather than taking a more conventional path of scholarship after graduating from Emory with a B.A. in religious studies, Buchta traveled north to Philadelphia, where he spent two years in a temple ashram teaching introductory Sanskrit and courses on the Bhagavadgītā and similar bodies of important Sanskrit literature. During his stint at the temple, Buchta met and married his wife, Åsa. Together, they left the United States to continue their studies in Sweden, his wife's native country.
Buchta's wife chose to pursue an undergraduate degree in Sanskrit at Stockholm University. In her second year, she shared with him one of the most famous poems in the whole Sanskrit corps, Kālidāsa's Meghadūta (The Cloud Messenger), a short, beautiful love poem about a couple separated by time and distance. Buchta was enthralled by the poetic beauty of the language and was inspired to purchase a book on poetic theory written in Sanskrit by Kavi Karṇapūra, a 16th-century author. Inside was a bookmark with a quote from Novalis, an 18th-century romantic poet, whom Buchta had first read during his time living in a temple, with the words, "Poetry heals the wounds inflicted by reason."
These words propelled Buchta on a new scholarly path. "To me, the language itself has a very profound beauty in the way that it is used. It is used very carefully not just in poetic writing but in discursive writing as well. Like math, Sanskrit requires a certain amount of precision to read it, to write it, to speak it, to hear it. I think studying the Sanksrit language instills the value of very careful thinking."
After earning a master's degree in South Asian studies from Uppsala University in 2006, Buchta and his wife returned to Philadelphia where he began a Ph.D. program at Penn that focused on religious poetry but intertwined the great linguistic literary and theoretical history of Sanskrit. Buchta will be finishing his Ph.D. as he begins his teaching duties at Brown.
For the last four years, Buchta was an adjunct lecturer at Rutgers, where he was single-handedly in charge of Sanskrit pedagogy and taught other courses on Indian literature and philosophy. At Brown, the bulk of his workload will be teaching elementary and intermediate Sanskrit, supplemented by a course on ancient linguistics in the spring. In alternating semesters, he will be teaching an English-language course about classical Indian cultural history.
The Buchta family of five — David, Åsa, and their three children, ages 9, 7 and 3, along with a dog and a turtle — recently moved to Providence where they look forward to supporting the Brown football team, particularly when it opposes Holy Cross, the alma mater of Buchta's father and sister. "My family and I will embarrass my father as much as possible by being dressed in Brown and rooting for the 'other' team."